Our STEP UP Program
BENEFITS:
Allows participants to earn their way into an apartment rental that they couldn't qualify for by renting a room, paying as greed and not violating their agreement for 90 days.
After successful completion, participants are qualified and can transfer to any rental within our portfolio while having their deposit transfer with them.
People in this program have the first pick of upcoming rentals.
REQUIREMENTS:
No violent criminal history
No felony drug convictions
Verifiable income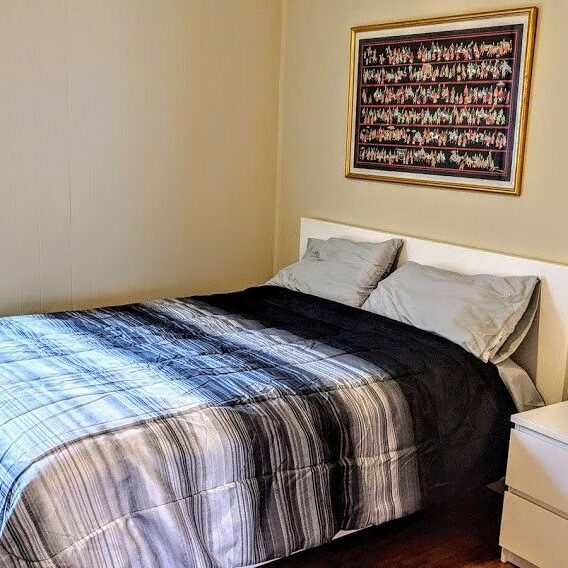 Are from $250 to $275 depending on the building and size of the room.
(MOVE-IN COST)
$500....(first week's rent $250 and $250 deposit)...your weekly rent is $250.
(MOVE-IN COST)
$550…(first week's rent $275 and $275 deposit)...your weekly rent is $275
The rooms are private and are single occupancy (one person per room)
They are furnished with a bed, dresser, and a wall mounted , smart TV.
The property is located downtown on 1st Avenue North in the Grand Central District of St Petersburg,Kenwood. It's within walking distance of all the latest, upcoming places within the Grand Central and the Edge District of St Petersburg.
It is on a bus line. The bus stop is on the corner. The trolley stops on Central Avenue, across from the property. The home is within walking distance of Tropicana Field, shopping, dining, entertainment, and most everything up and coming.
The property's backyard is fenced in with new white fencing. Off-street parking is located behind the property and street parking is also available in front of the home.
drunks, drugs, or drama will not be tolerated!
NO pets, NO exceptions
Your proven track record with us will pre qualify you to step up to any of our other properties (an apartment or single-family home). You will be prequalified.
RENT INCLUDES THE FOLLOWING: